In this article, you'll learn how to play online poker, as well as poker card rankings, and different poker variations. You'll also learn which trusted online casino in Malaysia you can play poker online and win real money.
What is Poker?
Poker is a popular gambling game that uses the standard deck of cards, luck, and strategy. To play poker, players must make bets against each other over who has the higher card values. There are a lot of Poker variations or types through the years, thanks to its long history.
The History of Poker
Earlier versions of Poker have existed even way back in the 16th century Germany. Germans played "Pochen", a bluffing game that soon also had a French counterpart which was then called "Poque".
This game eventually reached the United States through riverboats in New Orleans.
Poker got its modern name around 1830. During the American Civil War, an important part of the game was added. You could now draw cards to improve your cards' value.
Why is Poker Famous?
It can be said that Poker is one of the most popular casino games in the world. Although it's most popular in the US, almost all Asian countries have their own variation of Poker. An example of this is "Big 2", which is a type of Chinese Poker.
✓ Poker Tournaments and World Competitions are held every year
✓ Player can fold or call anytime
✓ It needs skill and intelligence, not just luck
✓ Players need understanding of psychology and people's behaviors
✓ Can have only 2 players or as many as 10 players
✓ "Bluffing" is entertaining to watch
Poker in Popular Culture
In Popular Culture, you can see Poker played in a lot of movies and media. The famous James Bond film Casino Royale shows the titular 007 agent playing Poker in a high-stakes Poker game (betting millions of dollars!)
The popular video game Red Dead Redemption 2 also features the main character playing Poker.
How to Play Poker
One of the most important parts of poker is the Poker Hand Rankings.
Hand – a set of 5 cards
Poker Hands Ranking
Poker Hand Ranking

(Highest to Lowest)

Description
1. Royal Flush

Highest Ranking Hand
10 to Ace Sequence in Same Suit
Ex: 10, J, Q, K, A in same Diamond Suit

2. Straight Flush

Second Highest in Poker Hand Ranking
Five-card sequence with the Same Suit
Ex: 5, 6, 7, 8, 9 with Clover Suit

3. Four of a Kind

Four Cards of the Same Value
1 Card with any Value
Ex: 4 King's, one 2 Spade

4. Full House

3 of a Kind + 1 Pair
Ex: 3 8's, Pair of Kings

5. Flush

Any 5 cards of the same suit, but not in sequence
Ex: 4, 5, 9, 10, A in same Heart Suit

6. Straight

5 cards in sequence with mixed suits
Against other Straight Hands, the one with the highest card is the winner
Ex: 10, J, Q, K, A sequence with different suits

7. Three of a Kind

3 cards with same rank/value
Ex: 3 8's, one Ace Spade and one 10 of Hearts

8. Two Pair

2 sets of equal value pairs
Ex: 2 King's, 2 Ace's

9. Pair

2 cards of equal rank/value = 1 Pair
Ex: 2 Ace's

10. High Card

No other combinations
Ex: Value depends on the highest card
Poker Card Ranking
The most popular Poker Variation is Texas Hold 'Em. It uses a standard 52-deck card, and can include 2-10 players at a table.
Easy Steps on How to Play Poker
Dealer deals the players 2 cards starting from his left
Player on the Dealer's left is 1st player to act.
He/She Can:
If a player bets, the other players can:
Call (match the amount of the raise[d bet] into the pot
Fold (give up their hand all the chips/money they already put in the pot
Raise (put more chips into the pot/increase their bet)
This goes on until everyone has called, or all of the chips are in the middle.
Once the 1st betting round is done, the dealer deals 3 cards face-up on the table.
These are the Community Cards that any player can use. It's also called The Flop.
Betting resumes. Players can decide whether they want to bet, and then raise or fold.
After that betting round, dealer deals a 4th card on the table that anyone can use. This card is called The Turn.
Players have the chance to either bet/check/raise/fold.
Dealer gives a 5th card that anyone can use, called The River.
For the last round, players can bet/check/raise/fold.
If more than one player is still left after finally betting, the cards are exposed.
Player with the highest-ranked hand wins the pot!
Easy, right?
Different Poker Variations
Texas Hold'em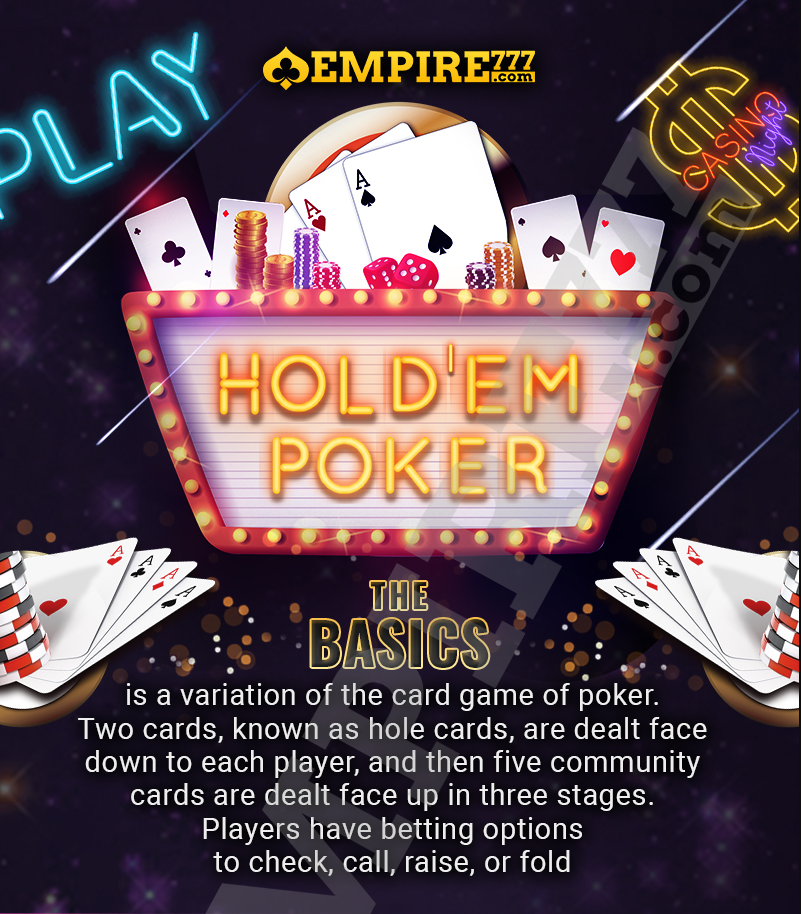 This is currently the most popular poker variation.
Two cards (hole cards), are dealt or given to each player.
5 community cards are dealt face up in 3 stages/rounds.
Players have betting options to check, call, raise, or fold.
3 Card Poker
Up to 7 Players and a Dealer use three cards.
The goal is to win by having a better hand than the dealer, or by at least getting a pair.
Highest Card
Straight Flush
Three of a Kind
Straight
Flush
Pair
3 Card Poker's Betting System
Ante – Initial bet to play
Play – Equal bet to the ante bet to continue the hand
Pair Plus – Additional wetting bet if you have at least a pair
Omaha
Omaha Poker is a variation of Hold 'Em.
Each player starts with 4 hole cards instead of 2.
Omaha also uses a standard 53-card deck.
5 Card Stud Poker
Card Stud Poker is the earliest form of stud poker. Before all poker games were "closed", only the players know their cards.
Stud Poker, on the other hand, is an "open game", where most of the player's cards are showed on the table. Players have an idea of how strong other player's hands are, and then bet accordingly.
Each player has at least 1 "hole" card which isn't shown until the showdown.
7 – Card Stud Poker
Card Stud Poker used to be the most popular poker variation played before Texas Hold'em Poker.
In this poker variation, 2-8 players are allowed. Players are each dealt with 7 cards, but only the 5 best 5-card poker hands will be used to determine the winner.
Open Face Chinese Poker
Players take turns drawing cards from a single deck in hopes of making the best hand.
No bets are placed during the rounds. Players instead play per point, and the game is scored in points.
After that, players will arrange 13 cards into 3 hands: the "top", "middle", "bottom".
Players compare their "top" with each other, and so on to the middle and bottom.
The player with the most points wins!
Special Mention:
Zynga Poker
Zynga Poker is a social application where users can play online poker. Through Zynga Poker, players can play poker online on social media sites like Facebook and MySpace. Zynga Poker is also compatible with Android, iPhone, Windows, Windows Phones, Tagged and Google+.
In Zynga Poker, you can play poker online (like Texas Hold'em and other poker variations) socially with other players. They also hold Poker Tournaments like PokerCon, a live poker tournament at Palms Casino in Las Vegas, Nevada.
How to Play Poker Online
Let's take Trusted Online Casino EMPIRE777 for example:
Visit Table Games or Live Casino

Pick your Poker Variation

Check the Game Rules

Play Poker Online!

Win Real Money!
What's the Difference Between Poker Online and Poker Offline?
The major difference with playing poker online and poker offline is the location.
In Poker online, you'll be playing in an online casino, while in Poker offline, you'll be playing in a land-based casino of your choice.
Some might say that poker offline is more fun because of the real-life interactionwith the players and dealers.
But playing poker online is convenient. With trusted online casino EMPIRE777, you can play with your own currency, deposit money through credit card or debit card.
Live Casino is the perfect mix of both online and offline poker. There's a real human dealer, but you can play in the comforts of your own home. You can also play Poker with just your mobile phone!
Where to Play Poker Online and Win Real Money?
Top Online Casino in Malaysia EMPIRE777 has both Table Games and Live Casino Online Poker. You can play with minimum bets and even maximum bets.
Where to Play Poker Online for Free?
In EMPIRE777 Casino, players can play poker online for free.
1. If they go to EMPIRE777's Table Games, they can pick Play for Fun option which allows them to play for free.
2. They can also GET RM30 Free Credit Bonus – No Deposit Required!
They can use RM30 Free Credit to play Online Poker games.
Poker Dictionary and Gambling Terms
Ante – small portion of the bet that players give to the pot at the beginning of the poker hand/round.
All-in – run out of chips while betting or calling
Bet – first chips placed in the pot
Blind – forced bet/partial bet put in by 1 or more player(s) before cards are dealt.
Bluff – to bet or raise holding a hand you think is weaker than your opponent's, with the intention of getting them to fold their stronger hand.
Call – put into the pot an amount of money equal to the most recent bet or raise.
Check – player won't bet, but they have the option to either call or raise later in the round.
Check-Raise – when player checks and then raises when a player behind you bets.
Community Cards – cards presented face-up in the middle of the poker table, shared with other players
Flop – first 3 community cards face-up altogether
Fold – forfeit any chance of winning the current pot/to lay down your hand instead of calling or raising a bet
House – the casino where the game is held.
Pot – sum of money players wager during a single hand or game
Raise – increase the amount of the bet
GET RM30 FREE CREDIT - NO DEPOSIT REQUIRED