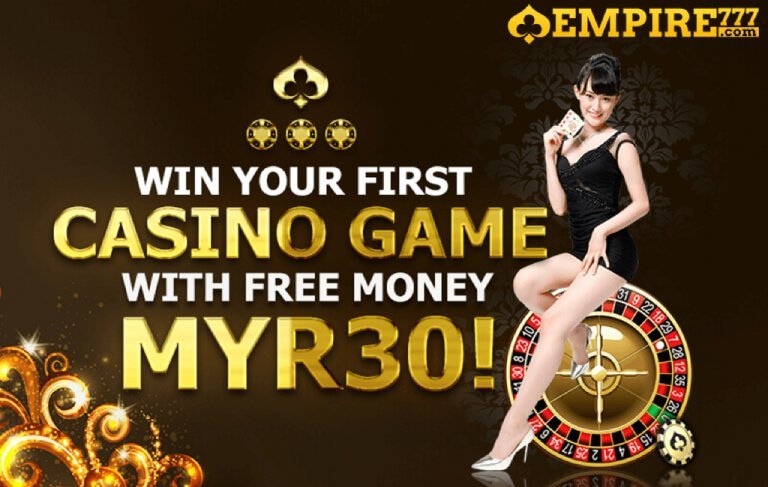 Why Free Credit No Deposit?
This Free Credit Malaysia Bonus is also known as "Free Money" or "Free Chips". Basically, players basically get free money from the online casino and use it to play Slot Games, Table Games and Live Casino.
Players don't need to deposit any money, all they have to do is SIGN UP with Trusted Online Casino EMPIRE777 and they can win real money!
Online Casinos offer Free Credit Bonus, but you have to do some things first like make an account and more. With, Trusted Online Casino Malaysia EMPIRE777, it's no different. But if you follow these simple steps, you can claim your RM30 Free Credit easily!
You can claim your Free Credit in the Free Bonus Page, which also shows you the T&Cs (don't forget to read them) and the Wagering Requirements!
After claiming, EMPIRE777 will try to reach you via call to welcome you for registering to their online gambling site. They will also explain on how to use the Free Credit Bonus!
Once EMPIRE777 has confirmed that you have successfully registered and satisfied other requirements, you can now start playing with your FREE RM30 BONUS!
Terms & Conditions – EMPIRE777 RM30 Free Credit
This promotion is only entitled to new player who is signing up in EMPIRE777 for the first time.
RM30 / USD10 (VN )/ USD20 (JP) / THB300 Free Bet credits can only be used for Slots games.
Free Bet Credits are required to be turned over 5x times before it can be transferred to players cash wallet
The remaining balance after player completed wagering will be converted from Bonus Restricted Wallet to Cash Wallet and any winning will be capped at USD60(JP) / USD50(VN) / MYR150 / THB900 for this promotion.
Any amount exceeding capped amount will be forfeited.
To withdraw fund from cash wallet, players must make a minimum deposit of RM30 / 5USD(VN) / 20USD (JP) / 500THB right away after completing the turnover requirement.
Balance + Deposit amount has to be turned over for 1x time before withdrawal.

Example: Player received free credit MYR30 and complete wagering x5.
Remaining balance after complete wagering is MYR 200.
Fund will be converted to cash wallet with amount MYR150. Current balance is MYR150.
MYR30

Balance in Cash Wallet

Deposit

Winnings + Deposit

Turnover

Turnover Amount

150

30

180

1x

180
Player is required to have a call verification to be eligible to receive this bonus.
If the player loses all bonus money, the player can still make deposits as usual and the promotion wagering requirement no longer apply.
Claiming this free credit will not qualify player to any other tournament or promotion until they finish all wagering required for this promotion.
Playerare entitled to claim either one of the '100% Welcome Bonus' or 'Deposit Get Free Spins' on their second successful deposit.
Free credit and deposit amount for this promotion should only be used in slots. Any winnings from other games will be forfeited.
EMPIRE777 reserves the right, at any time, to alter these terms and conditions at its sole discretion which includes canceling, modifying,suspending the promotion and/or forfeit any winnings.
General Promotions Terms and Conditions apply.
General Terms of Use apply.
If all of that is okay with you, then claim your RM30 Free Bonus now.
Free Credit FAQ (Frequently Asked Questions)
After I registered to your online site, Am I already able to get the free credit RM30?
– Yes, because this free credit RM30 or sign up bonus is for the new online gambler like you who never had a successful deposit deal yet with EMPIRE777.
For sure you will be asked the next thing you should do how you will get your winnings? Right? And do you still need to deposit?
-So, here's the next thing you should do to be able to get your winnings, you must make a deposit equal to your balance once you would like to withdraw.
Is there any minimum amount for depositing that I needed to know?
– Yes, the minimum deposit required is RM30.
After I deposited in my account, Is there any wagering requirements needed before I begin to play?
– Yes, there is. Please refer to the T&Cs to know what the Wagering Requirements are.
For more details, check EMPIRE777 Free Bonus Claim Page.
How you can get winning?
Follow our Slot Guide to Winning Big Prizes! 
How many times you can claim the bonus?
EMPIRE777 online casino is very strict about our free credit bonus, you can avail this bonus per player policy only. You don't have a chance to succeed again once you already avail this. Always make sure to read and be knowledgeable of the terms and conditions apply with our free credit bonus. Do you want more bonus? Check our Welcome bonus or  60 Free Spins Bonus to claim more.
What can you do with this free bonus?
If you successfully get the free bonus, you have the right to select any Slot Games in EMPIRE777! We recommended you to deposit quickly or as fast as you could because if you deposit with the minimum requirement then, the one thing you just needed to do is meet the wagering requirement and finally you can able to pay out.
So, do you have the confidence to win with the EMPIRE777 online casino games? Then, what are you waiting for?